Well, it's 2018, and as a society we are starting to become more aware of what we are putting into our bodies. There is so much to learn about nutrition, health, and food, but I'm not going to go into detail about that. If you tell me you're not a food fanatic, then I DON'T BELIEVE YOU. We all have at least one food item we can't live without. So one day I was scrolling through Facebook and noticed a sponsored ad. There was one that completely caught my eye, Vegandale Food & Drink Festival. My curiosity level was at a high because vegetarianism has been on my mind lately and my thought process through it all has been a rollercoaster. I say this because:
I am allergic to tree nuts. Yes, cashews, almonds, Brazilian nuts, hazelnuts, (yup, I've never had Nutella), pecans, you name it. Now you're probably reading this thinking I'm crazy because a lot is replaced with tree nuts. So, obviously I've been asking myself many questions: "Can I become vegetarian with a nut allergy? Where will I get my protein? Where do I even start?"
After reading about Vegandale, I decided to make a trip to Randall's Island with welcoming, loving friends to educate myself and of course eat yummy food! Mentally prepare yourself for a day full of over 125 vendors.
I could not have asked for a more beautiful day. Sun was out, high 70's, definitely did not feel like Fall. Once we arrived, some tents already had a 30 minute wait. So we decided to walk up to some vendors that needed love.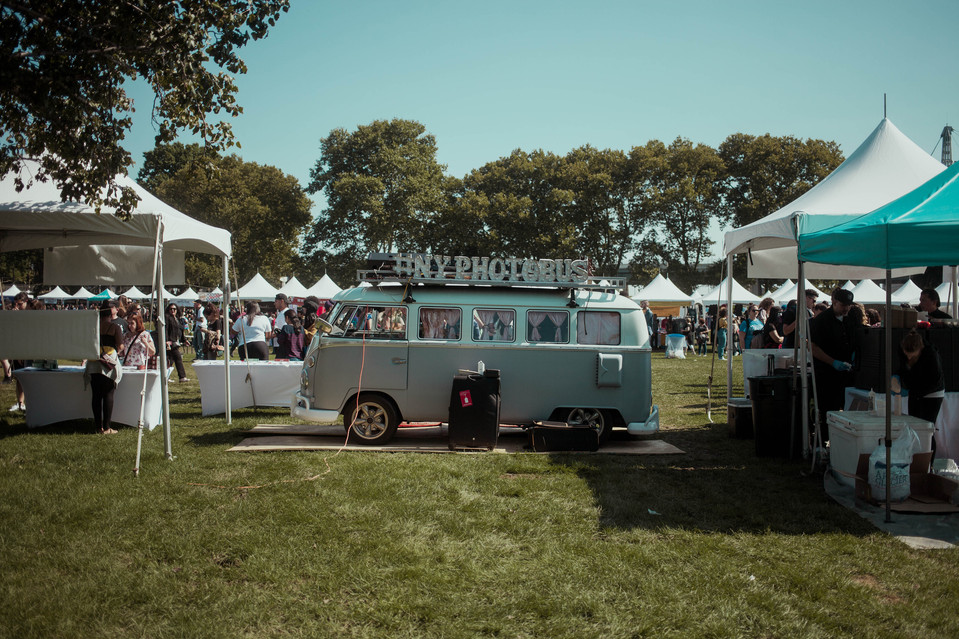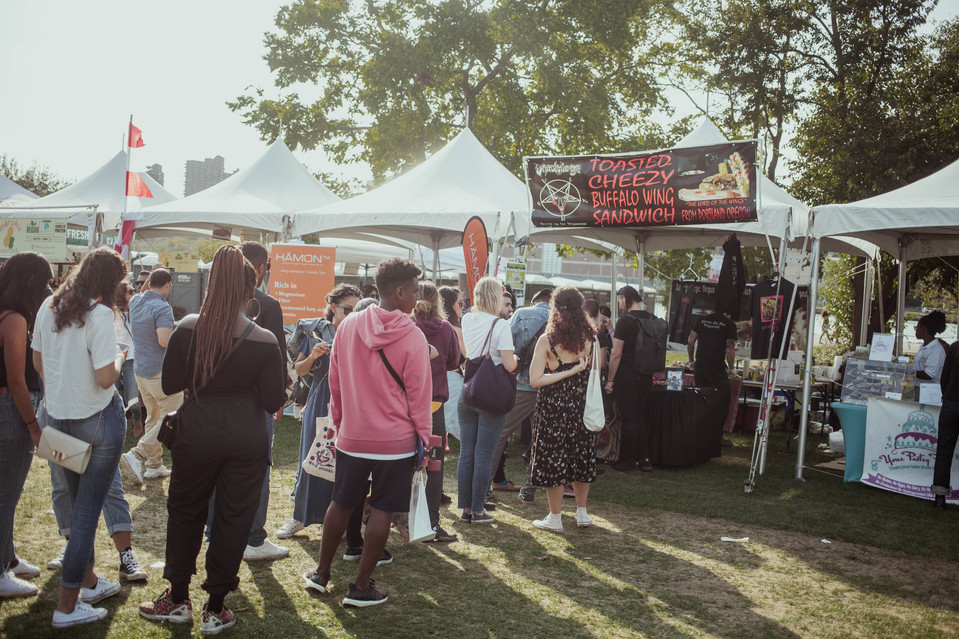 Here are the list of Vendors we visited:
- VSPOT Restaurant from Brooklyn, NY: "Latin Vegan Comfort Food"
Fuuuuckinnng delicioso!!! We tried their Avocado Fries, which were crispy, creamy, and crunchy as well as their Philly Style Empanada (mushrooms, onions, peppers, vegan cheese, & seitan). Monica went for seconds; it was that gooood.
Unfortunately, my empanada photo washed out, so sorry about that.
- Marty's V Burger from New York, NY: "Great vegan food. Fast."
OH MY GAW. Mia and I had their Original World Famous Burger which had a "burger patty with melted cheddar "cheese," special sauce, pickles, and crisp shredded lettuce, on a sesame seed bun". We swear their special sauce tasted like Mac sauce and it was heaven. Their patty is house made with "seitan, black beans, and brown rice"; a perfect combination of all three.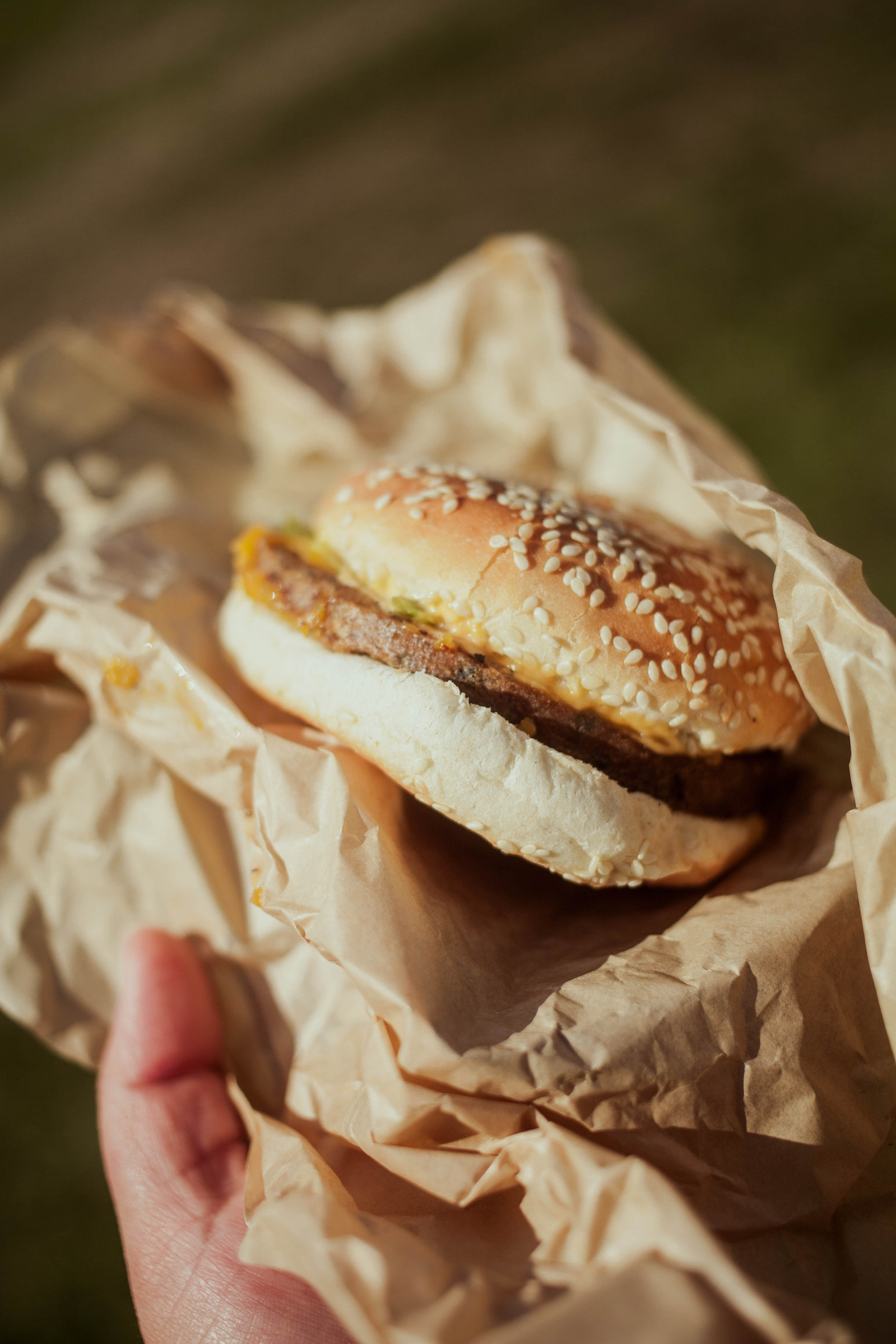 - Earth to Us from Durham, NC: "American & Latin Vegan Comfort Food"
Most of their menu items are Gluten Free & Soy Free! I waited in line with Jess and the incredible smell of the wings made my mouth water. She ordered the Loaded Nachos (corn tortilla chips topped with cashew nacho cheese, seasoned beans, pico de gallo, sour cream and guacamole) and the Cauliflower Buffalo Wings (battered and fried cauliflower florets with choice of buffalo sauce or bang bang sauce topped with ranch). Both of these items are GF.
Unfortunately I couldn't try the nachos due to the cashew nacho cheese, but the wings were deliciously saucy and crunchy!
I'm going to take a break and talk about one of their Sponsors: Mythology Diner.
Mythology Diner is located in Toronto, Canada serving you Americanized meals, vegan style! Throughout the park, they provided signs with myths, facts, and important statements. I really loved walking around and reading these because it was pretty educational, especially for someone still learning about this culture.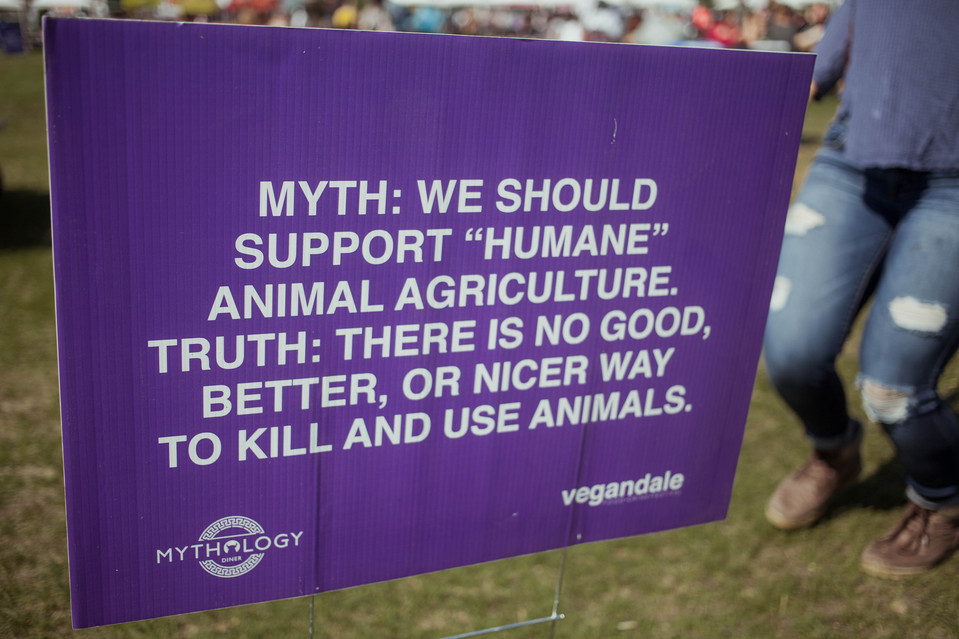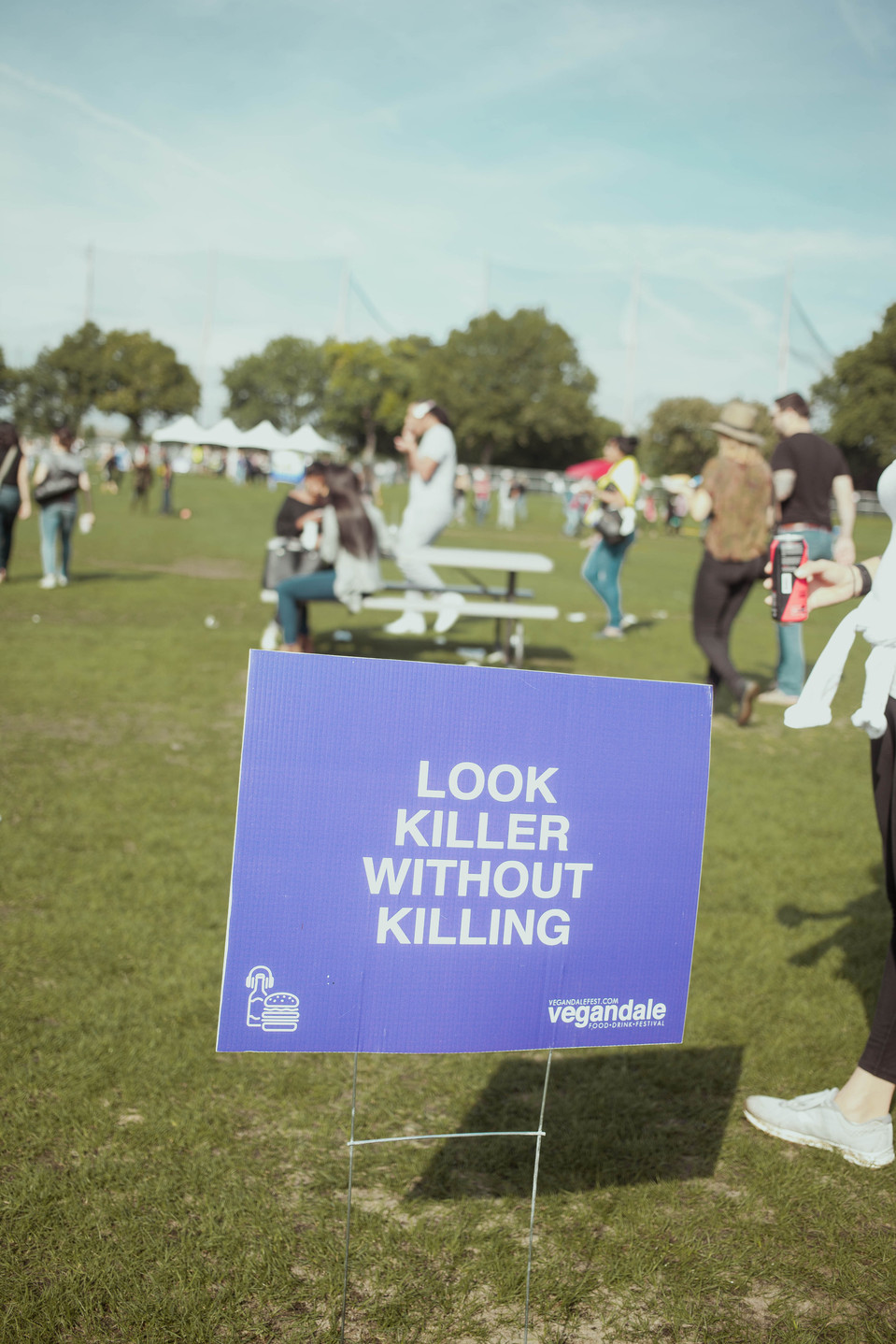 - Miruku Peanut Milk from New York, NY: "#benuts"
I passed this vendor as we took a little break from the heat and noticed "peanut milk". Because I do not have an allergy to peanuts (peanut is actually a legume!), I decided to buy a cup of their Sweetheart Peanut Milk. For all of you peanut lovers, it's very peanut-y. I thought it would have more flavor of sweetness, but it was still pretty good. Their milk is plant-based with natural plant-protein, limited ingredients and contains healthy fats!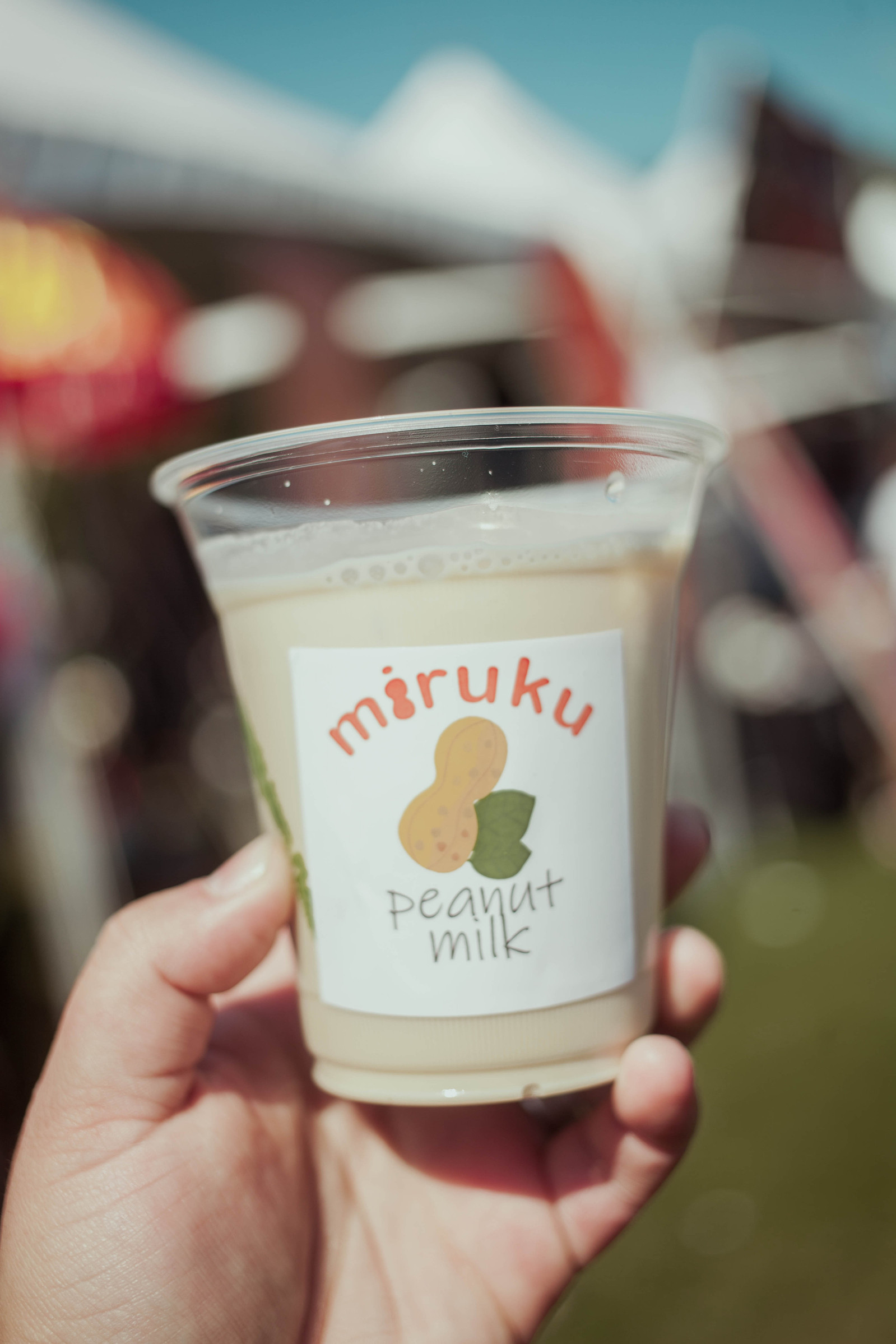 - These Wingz? from Chicago, IL: "Unapologetically Vegan"
These wings sure are good wings if you love seitan! Seitan is basically wheat gluten with high in protein and low in fat. Mia decided to get both their buffalo and sweet & tangy wings. I personally loved their sweet & tangy. Their sauce is beautifully even with sweet and spice. If you're more towards spicy, definitely go for buffalo: caliente!
- John's Juice from New York, NY: "#AllJuiceNoCups"
Five minutes into walking around Vegandale, I could not tell you how many people I saw with watermelons and pineapples. Once I found out about John's Juice, I craved for it the entire day. So I saved the best for last. I am a big fan of fruit, especially mango, watermelon, pineapple, all the tropical colors! This was the longest line for me; I waited about 30 minutes to get my refreshment. By the time I ordered my drink, they were sold out of their dragonfruit, orange, grapefruit, and pineapple! Thankfully they still had pineapple juice, so they gave it to me in a watermelon. WHEN I TELL YOU THIS WAS WORTH IT, it was WORTH IT. The sweetness in the watermelon bits to the juicy, ice cold pineapple juice… perfection.
John's Juice uses NO cups. So far they have saved over 50,000 cups and over 80,000 plastic straws. GO GREEN!
All in all, Vegandale was an incredible journey. I am happy to know that I further educated myself on eating a plant based diet. If I ever choose to become a vegetarian, I now know my options and what paths I can take for be more cautious. The people, culture, and overall environment was so positive, happy, and loving. I HIGHLY recommend going to Vegandale Fest if you're ever in New York, Chicago, Houston, or Toronto! If you ever decide to go vegan or vegetarian, just a reminder that that doesn't always mean it's completely healthy! Be careful with the carbs.
Love you all, thanks for the love.